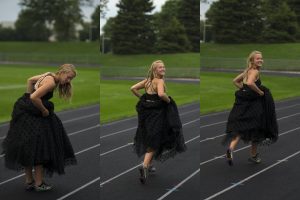 I always strive to capture my images as close as possible in camera, except of course  retouching.  But sometimes an image involves a little more effort to create what I had envisioned.
This is one of my favorite senior pictures from last year!  It's also very meaningful because this girl happens to be a good friend of my daughter and spent hours upon hours in our home through the years.  🙂
Hailey is an amazing runner!  I thought it would be so fun to have a running picture on our track in her prom dress.   (I mean, how often is a prom dress ever worn again?)
The day was so gray and humid.  Hailey curled her hair before the session, but with every passing minute, her hair fell just a little more.  She was such a sport!  I was having a hard time creating a capture where my off-camera flash caught her at just the right moment as she ran and looked back at me.  Some images had hair across the face.  She came back to our starting point several times and ran for me.
Finally, I had an image with the flash exactly where I wanted it.  Mission accomplished – almost.  I knew I could make this picture even better.  🙂
So, I took out the fence in the background that was going through her head.  I changed out her legs from another image where I liked the running position just a little better.  I added some pieces of hair with pretty light from another picture.  I dropped in a prettier sky – the sky we should have had at this time on a day with a perfect sunset.  Then, I added some light rays.
Did it take a little time?  Yes.  Was it totally worth it to me?  Yes!
I love capturing a stunning image, but I also very much enjoy creating one!