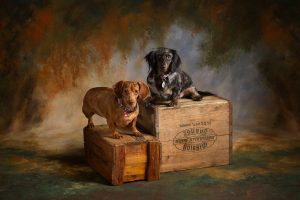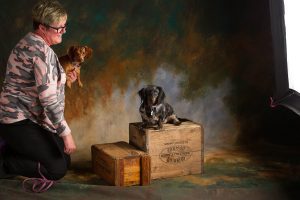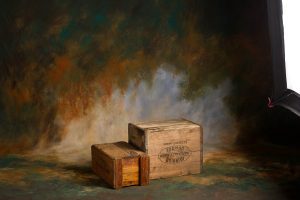 Sweet little Franny and Fergi were subjects in this studio yesterday.  I had never photographed two dogs together before.  In an ideal world, my first image would just "happen."  However, I gave this some thought in advance.  Both of these pups were pretty young.  I knew that they would be full of energy and they most definitely were!  🙂  So how was an image like this created?
The mom of these "girls" 🙂 helped with the session.  I shot each dog individually and then I photographed the background and props alone, making sure to straighten out floor of the backdrop.  There was no "cutting and pasting" in creating the final picture.  This portrait was created by a careful combination of blending images together in order to create the "perfect" shot.
Why reveal my secret?
These are some skills that took a while to perfect, but after these many years in business I'm pretty darn good at combining images.  I wanted people to know that even if a session seems a little crazy (and it was 🙂 ) and if you leave thinking, "I don't think she could have captured anything," I usually can.  🙂  It needs to look totally seamless, like it came out of the camera that way, in order to pass my seal of approval.
If you are looking to create something amazing for your pet or family (these same techniques work great with people  🙂  ), I look forward to hearing from you!